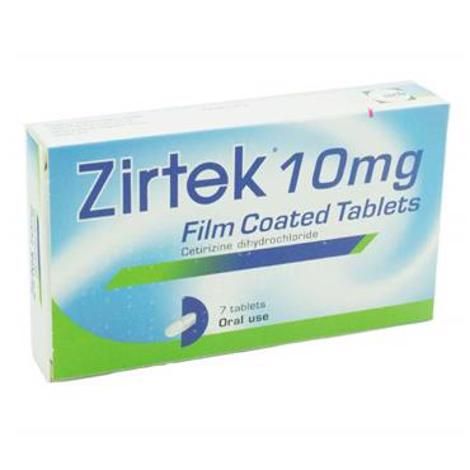 Zirtek Allergy Relief 10mg Tablets - 7 Pack
Pickup currently unavailable
What is it
Zirtec Plus Decongestant (cetirizine) is used to relieve symptoms of allergies such as blocked nose, sneezing, runny nose, itchy nose or itchy eyes, which occur in seasonal allergy rhinitis (hay fever) or dust mites (perennial allergic rhinitis).
Dosage
Children aged 6 to 12: The recommended dose is 5 mg twice daily as half a tablet twice a day.
Adults and adolescents aged 12 years and over: The recommended dose is 10 mg once daily as one tablet daily.
If the tablets make you feel drowsy or dizzy, taking half a tablet twice a day may be better than taking one tablet once a day.
Warnings & Cautions
Always take this medicine exactly as described in this leaflet or as your doctor or pharmacist has told you. Check with your doctor or pharmacist if you are not sure.
The tablets need to be swallowed with a glass of liquid.
The tablet can be divided into equal doses.
Do not take more than one tablet each day.
If you are pregnant or breast-feeding, think you may be pregnant or are planning to have a
baby, ask your doctor for advice before taking this medicine.
Always read leaflet and packaging prior to taking.
Ingredients
The active substance is cetirizine dihydrochloride. One film-coated tablet contains 10 mg cetirizine dihydrochloride.
The other ingredients are microcrystalline cellulose, lactose monohydrate, colloidal
anhydrous silica, magnesium stearate, Opadry Y-1-7000 (hydroxypropylmethylcellulose (E
464), titanium dioxide (E 171), Macrogol 400)