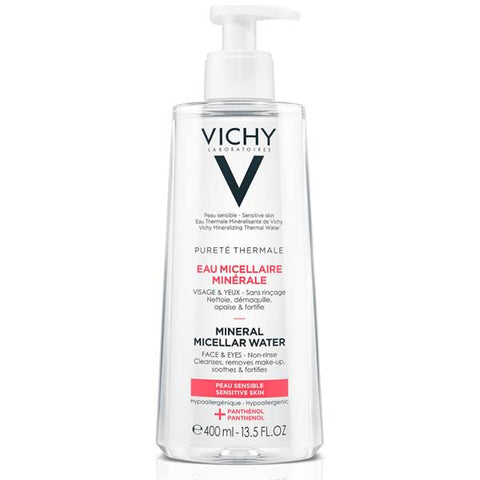 Vichy Mineral Micellar Water - Sensitive Skin 400 ml
Pickup currently unavailable
Pureté Thermale Mineral Micellar Water is a specifically designed makeup remover and cleanser for sensitive skin.
Eradicate makeup and cleanse complexions in one quick and easy step with Vichy Pureté Thermale Mineral Micellar Water for Sensitive Skin. ­­­Lightweight and delicate, the nurturing formula cleans and refreshes without causing tightness or discomfort, certified for even sensitive skin-types.
The gentle solution effectively clears the skin of impurities, simultaneously cleansing complexions and removing makeup without excessive rubbing or rinsing. Enriched with Vichy Therma Mineralizing water and harnessing a formula based on micellar technology, the calming cleanser soothes and hydrates skin to leave behind a radiant, healthy-looking visage devoid of soreness or irritation.
"Our skin is under constant duress from daily exposome aggressors, like UV damage, stress, and pollution. Throughout the day, pollution, dirt and other impurities latch on to the skin, which can lead to enlarged pores, uneven skin tone and wrinkles. Vichy's Mineral Micellar Waters, formulated with Vichy Mineralizing Water, effectively cleanse, purify and fortify your skin (as well as remove makeup), leaving your face hydrated, comfortable and most importantly, protected. This Micellar Water for sensitive skin also includes Vitamin B5 (Panthenol), to soothe, and moisturize the skin."
-Dr. Erin Gilbert, MD, PhD, FAAD
Dermatologist & Neuroscientist