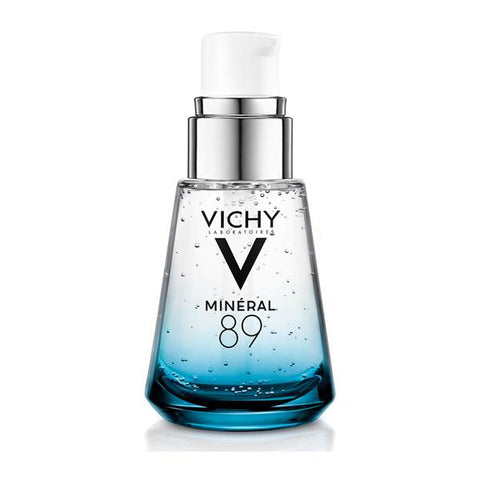 Vichy Mineral 89 Daily Booster - 75 ml
Pickup currently unavailable
Vichy Mineral 89 is a serum for dry and normal skin that hydrates and plumps the skin.
With a combination of Thermal mineralising water and Hyaluronic acid, this is a hero product to add hydration and strength to your skin. Helps protect against daily pollution.
A light gel-like texture that absorbs immediately to your skin.
Your skin's daily dose of strength.
Mineral 89 combines our highest concentration of Vichy Thermal Mineralizing Water, along with Hyaluronic acid to plump and strengthen the skin barrier and protect it from pollution.

An 11 ingredient only formula suitable for sensitive skin
A fresh gel like texture that absorbs into the complexion immediately, drenching it with moisture
The first step in your skincare regime which leaves skin plump, protected and ready for the next step
Vichy Thermal Mineralising Water is drawn from the depths of the French volcanoes, enriched with 15 rare minerals. It has been proven to help stimulate skin's natural defence and reinforce skin's integrity by renewing skin and improving its barrier function.
Vichy's powerful formulas have been tested by dermatologists under real-life conditions to ensure their optimal efficacy and suitability for sensitive skin. Enriched with mineral-rich water from the French volcanoes with active natural ingredients, Vichy leaves your skin looking healthy and glowing.
"It feels wonderful on the skin. With the hyaluronic acid, the effect is noticeable in terms of smoothness and hydration."- British Beauty Blogger