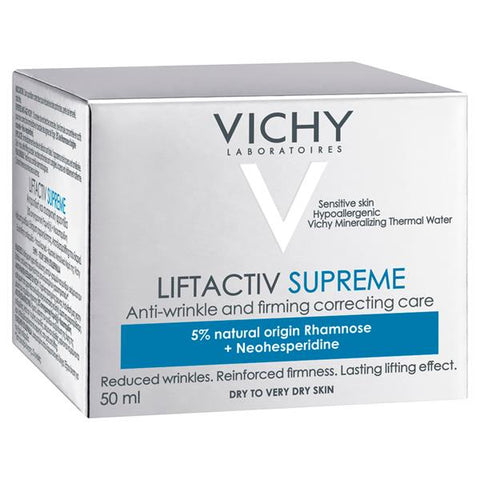 Vichy LIFTACTIV SUPREME CREAM DRY SKIN MOISTURISER
Pickup currently unavailable
Liftactiv Supreme has an instant smoothing effect. The formula penetrates quickly, and provides a fresh and comfortable feel on the skin.
Combat the signs of ageing whilst intensely moisturising with Vichy 'Liftactiv Supreme Face Cream' for dry to very dry skin. Working to counteract the onset of wrinkles and firm the skin, this advanced formula lifts and hydrates, creating an instant soft-focus appearance with an incredible smoothing effect.
An everyday moisturiser, its unique blend utilises rhamnose, a naturally derived anti-ageing active ingredient to target signs of ageing as they appear on the skin, promising to brighten a tired, fatigued complexion whilst firming and boosting radiance. Intensely hydrating and quickly penetrating, the emulsion will melt into the skin, making it feel fresh and soft to the touch with a comfortable feel. - K.N.
*Paraben free and hypoallergenic. Suitable for sensitive skin.