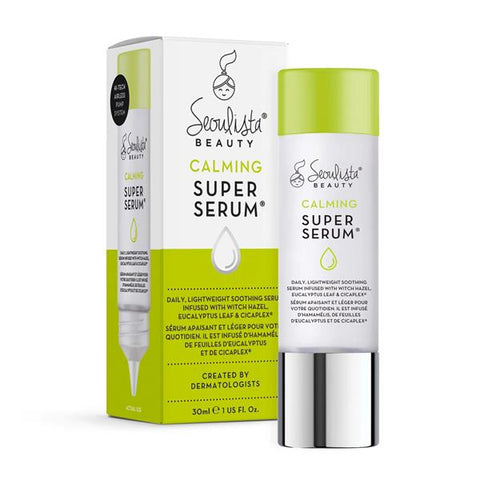 Seoulista Calming Super Serum 30 ml
Pickup currently unavailable
Soothe stressed out skin with NEW Seoulista Calming Super Serum®. Formulated for sensitive skin, this gentle, lightweight serum is infused with powerhouse complex, Cicaplex®, to help to heal, soothe and reduce redness. Witch hazel helps to calm inflammation, while eucalyptus leaf helps to strengthen the skin barrier, leaving stressed-out skin feeling soothed and refreshed.
Created by dermatologists, this soothing serum is conveniently contained in a unique airless pump that dispenses the perfect amount needed to cover your face and neck in a single application.
Better together, we have designed the Seoulista Super Serums® to be used in tandem with the Seoulista Cryo Cool® to create a high-performance daily skincare ritual, without the hassle.
Powered by cooling technology, the combined benefit enables our Seoulista Super Serum® to be more easily absorbed into the skin as the cold therapy stimulates the skin to allows our potent formulations to more easily penetrate the skins surface, all while naturally calming inflammation and redness, encouraging lymphatic drainage to decrease puffiness, helping to reduce pore size and increasing circulation to deliver on a healthy, radiant complexion.