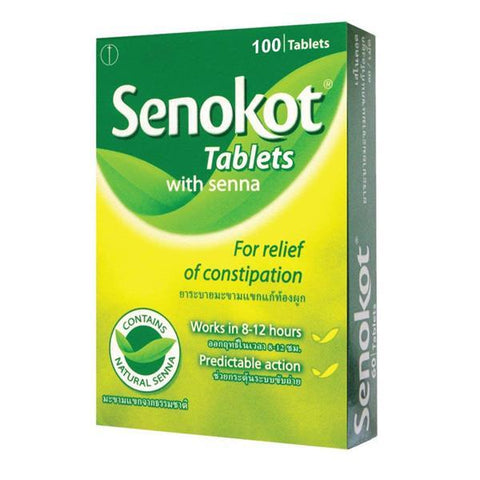 Senokot 7.5mg Tablets - 100 Pack
Pickup currently unavailable
Senokot is a reliably effective laxative made with natural senna treated specially to yield a constant amount of active ingredient in each dose, to give predictable relief from occasional constipation.
Gentle effective constipation relief
Works in 8 to 12 hours with predictable relief
Helps restore your natural rhythm
Contains natural senna
Dosage
Senokot 7.5mg Tablets are for oral administration.
Adults. 24 tablets at night, new users should start with the lowest dose and increase if necessary, by one half of initial dose each day.
Once regularity has been regained doses should be reduced and can usually be stopped.
Senokot usually acts within 812 hours.
Dose can be repeated on a daily basis until bowel action is restored, but if there is no bowel movement within three days of use, consult your doctor.
Warnings and Cautions
You know you are allergic (hypersensitive) to any of the ingredients in this product (see section on ingredients)
You have a sharp or severe pain in your stomach which may be symptoms of appendicitis, intestinal obstruction, inflammatory bowel disease, including ulcerative colitis, or abdominal pain of unknown origin
You are pregnant or breastfeeding, unless under medical advice
You may experience temporary mild stomach pains when changing dosage.
If you have these or any other symptoms after taking this product tell your doctor or pharmacist.
Ingredients
Each tablet contains standardised senna equivalent to 7.5mg total sennosides in a base containing calcium phosphate, maize starch, lactose monohydrate and magnesium stearate.
What is it
Senokot is a reliably effective laxative made with natural senna treated specially to yield a constant amount of active ingredient in each dose, to give predictable relief from occasional constipation.
Gentle effective constipation relief
Works in 812 hours
Predictable relief
Helps restore your natural rhythm
Contains natural senna