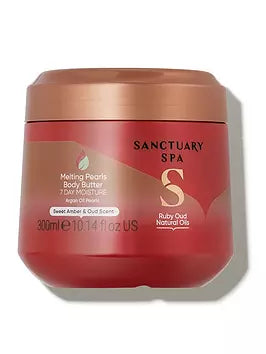 Sanctuary Spa Sanctuary Spa Ruby Oud Natural Oils Melting Pearl Body Butter 300ml
Pickup currently unavailable
A rich, creamy blend of shea butter and encapsulated pearls of Moroccan argan oil melts into the skin to intensely moisturise, while the decadent scent of Sweet Amber & Oud indulges the senses.
Our Melting Pearl Body Butter deeply nourishes to leave skin looking replenished and radiant and feeling supple velvety soft for up to 7 days.
Formulated with 92% ingredients of natural origin and suitable for all skin types, our body butter is cruelty free and vegan friendly, while our packaging is 100% recyclable. Our products are mineral oil free, working to ensure every drop of oil works to enrich and moisturise skin while traditional mineral oil moisturisers would sit on the surface.
A velvety soft body butter in a decadent long lasting sweet amber and oud fragrance with golden encapsulated pearls of Moroccan Argan.
Leaves skin feeling moisturised for up to 7 days after use.
A deeply moisturising formula that leaves skin moisturised and radiant for 7 days.
Moroccan Argan oil – soothes and softens skin without feelings of dry or tightness.
Shea butter – useful for skin strengthening and helps skin protection from external aggressors.
All Sanctuary Spa products are vegan, cruelty free, microbead and paraben free. This product is also mineral oil free.