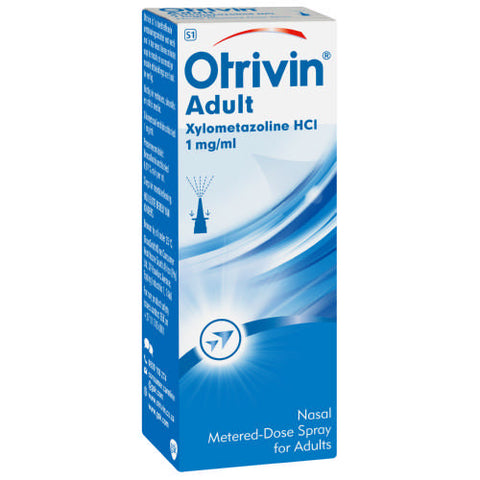 Otrivine Adult 0.1% Nasal Spray - 10ml
Pickup currently unavailable
What is it
Otrivine Adult Metered Dose 0.1% Nasal Spray provides relief from the symptoms of nasal congestion due to colds, sinusitis and allergies, such as hay fever. Each application delivers a measured dose which works within minutes to clear a blocked nose and relieve excessive nasal secretions for up to 10 hours.
Dosage
For adults and children over 12 years: one application in each nostril 2 or 3 times daily.
Warnings & Cautions
Keep all medicines out of the reach and sight of children
Not suitable for infants or children under 12 years
Do not use continuously for more than seven consecutive days. If symptoms persist consult your doctor.
Do not exceed the stated dose.
If you are pregnant or taking other medicines or are under a doctor's care consult your doctor before using Otrivine.
Ingredients
Active Ingredient: Contains Xylometazoline Hydrochloride (0.1% w/v)
Also contains: Hypromellose, Sodium chloride, Sorbitol, Sodium phosphate, Sodium acid phosphate, Disodium edetate, Benzalkonium chloride and Purified water.