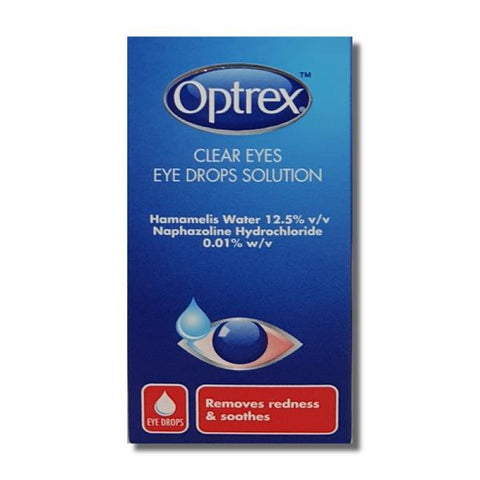 Optrex Clear Eyes Eye Drops - 10ml
Pickup currently unavailable
What is it
Optrex Clear Eyes Eye Drops are designed to help cool and soothe red and sore eyes. This formula also helps to reduce the appearance of bloodshot eyes by restoring normal blood flow. Suitable for children and adults aged 12+
Use
With clean hands, gently pull down the lower lid of the eye and carefully squeeze 1 or 2 drops into the affected eye(s)
Do not use more than 4 times daily.
Warnings & Cautions
Check Before Use:
Consult your pharmacist or doctor before use if you are pregnant, if you have any eye disease (eg glaucoma), or have had eye surgery if you are taking any medicines or are receiving medical treatment.
Stop using and consult your pharmacist or doctor if you have eye pain, changes in vision increased redness or no improvement after 24 hours.
FOR EXTERNAL USE ONLY
Do not use eye drops whilst or just before wearing soft contact lenses, or if you suffer from eye disease or have had eye surgery. Prolonged use may increase redness of the eye.
KEEP ALL MEDICINES OUT OF THE REACH AND SIGHT OF CHILDREN.
Ingredients
The active Ingredients Hamamelis Virgiana (Distilled Witched Hazel BPC 12.5% v/v) and Naphazoline Hydrochloride PhEur 0.01% w/v.