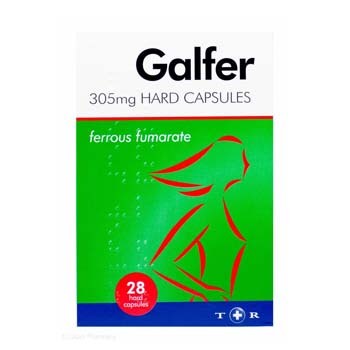 Galfer 305mg Tablets - 28 Pack
Pickup currently unavailable
What is it
Galfer 305mg Hard Capsules is used to help replace low levels of iron in the blood. Ideal for anyone who needs treated for Iron deficiency. Each capsule contains 305mg of ferrous fumarate.
Dosage
Adults, the elderly and children over 12- To prevent iron deficiency take one capsule a day. To treat iron deficiency, take one capsule twice a day.
Warnings & Cautions
Contains iron. Keep out of reach and sight of children, as overdose may be fatal".
Prolonged or excessive use in children without medical supervision may lead to toxic accumulation
Caution is advised when prescribing iron preparations to individuals with history of peptic ulcer.
Duration of treatment should generally not exceed 3 months after correction of anaemia.
Ingredients
The active ingredient per capsule is: ferrous fumarate 305mg (equivalent to 100mg
elemental iron).
The other ingredients are: gelatin, quinoline yellow (E104), indigotine (E132),
titanium dioxide (E171) erythrosine (E127).