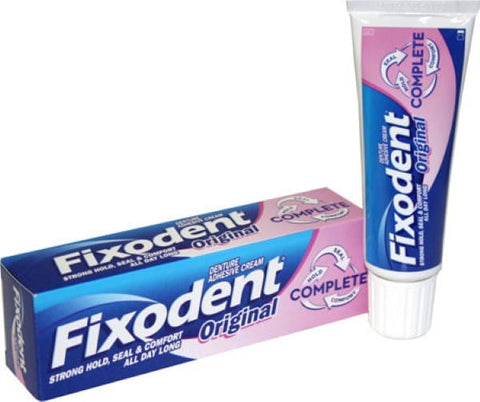 Fixodent Original Denture Adhesive Cream
Pickup currently unavailable
What is it
Fixodent Complete denture adhesive cream is suitable for full and partials.
Complete seal, hold & comfort
All day hold
Original flavor
Use
Keep nozzle and cap dry to avoid clogging. If tip becomes clogged, use a pin to reopen. Squeeze the tube from bottom up, flatten and do not roll.
Usage instructions:
Clean dentures and gums thoroughly.
For best results apply dots of the adhesive at intervals along edges and surfaces of the denture which come into contact with your mouth.
Rinse mouth with water before inserting dentures. Our denture adhesive is designed to react with the moisture to form a thin, tight, food seal barrier.
Press denture firmly into place and hold briefly.
For best results wait 15-30 minutes before eating or drinking.
Warnings & Cautions
DO NOT use more product than shown in diagram (not more than about 1.25g, carefully following the diagram). If product oozes off denture in your mouth you are using too much.
DO NOT use product more than once a day. With proper use, this tube should last at least 4 weeks.
DO NOT use excess product for poorly fitting dentures.
DO NOT use more than directed. Contains zinc, consult a doctor if using other products containing zinc.
Ingredients
Calcium/Zinc Pvm/Ma, Mineral Oil, Petrolatum, Cellulose Gum, Silica, Red 27 Lake