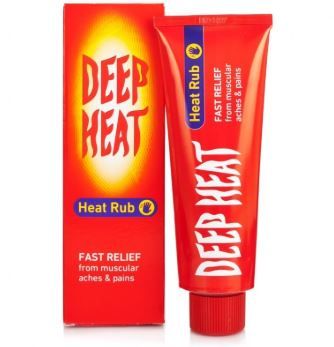 Deep Heat Cream - 100g
Pickup currently unavailable
Deep Heat Rub is recommended for the relief of muscular pains and stiffness including back and rheumatic pain, sciatica, fibrositis, sprains and chilblains.
Deep Heat Rub can be used before or after exercise.
Use
Use this Deep Heat Rub Cream only on your skin. Adults and children over 5 years should gently massage Deep Heat Heat Rub into the affected area until the cream is rubbed in. Apply a thin layer to the skin 2 – 3 times daily and wash hands immediately after use. Always read the label.
Warnings & Cautions
Please read the enclosed leaflet for warnings and precautions for use.
Do not use if you are allergic to any of the ingredients or painkillers such as aspirin, ibuprofen and other NSAIDs. Not to be used in children under 5 years. Consult your doctor before use if you are pregnant, breast feeding, asthmatic or on any prescribed medicines. Keep all medicines out of the sight and reach of children.
Ingredients
Active ingredients Menthol 5.91% w/w, Eucalyptus Oil 1.97% w/w Methyl Salicylate 12.80% w/w, Turpentine Oil 1.47% w/w