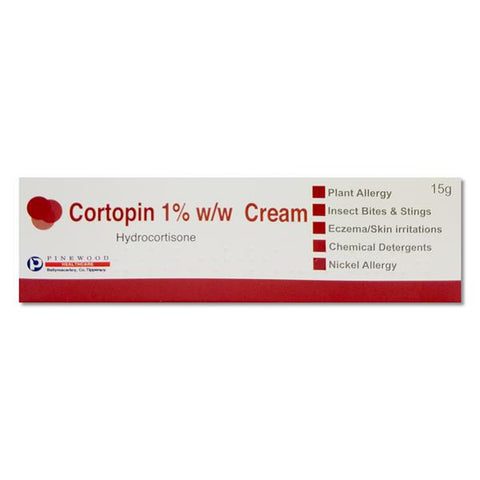 Cortopin 1% Cream - 15g
Pickup currently unavailable
What is it
Cortopin 1% cream can be used to reduce redness, inflammation and swelling associated with a variety of skin conditions including eczema, dermatitis and other rashes due to allergic reactions. Contains the active ingredient, hydrocortisone, a type of steroid. The cream reduces inflammation, relieves irritation and itching.
Please check with your GP or pharmacist if you have psoriasis or are currently taking an oral corticosteroid before using.
Use
Not for use by children under 12 years of age without medical advice.
For application to the surface of the skin only:
Wash your hands thoroughly before use.
Apply the cream sparingly to the affected area, once or twice a day for a maximum of 7 days. Massage the cream gently into the affected area to help absorption into the skin.
Once applied, do not cover the area with a dressing or plaster.
If the condition has not improved after 7 days, or worsens, consult your doctor.
Warnings & Cautions
Do not use Cortopin 1% w/w Cream:
If you are allergic to hydrocortisone or to any of the other ingredients of Cortopin 1% w/w Cream
If you have a bacterial infection (e.g. impetigo), viral infection (e.g. cold sores 'herpes simplex', chicken pox) or fungal infection (e.g. tinea, also called 'athlete's foot', ringworm or thrush) of the skin.
On your face or near your eyes, on the anal or genital region, or on broken skin.
Cortopin 1% w/w Cream is not suitable for use in the following:
Allergic skin reactions including temporary red or raised areas on your skin (short lived 'wheal and flare' reactions)
Conditions involving the deeper skin layers, such as granulomas
Psoriasis (long term scaly skin condition); only use this product on medical advice and with careful supervision by your doctor.
Do not cover the area with a plaster or dressing of any kind after application of Cortopin 1% w/w Cream.
Do not apply the product to your face for long periods of time.
Please tell your doctor if you are taking or have recently taken any other medicines, including medicines obtained without a prescription.
Tell your doctor if you are or may be pregnant. Ask your doctor for advice before taking any medicine during pregnancy.
If you are breast-feeding, do not apply the product to your chest area.
For external use only.
Ingredients
The active substance is hydrocortisone and the cream contain 10 mg in every 1g (1%).
The other ingredients are Cetostearyl alcohol, chlorocresol, liquid paraffin, Macrogol cetostearyl ether, white soft paraffin and purified water