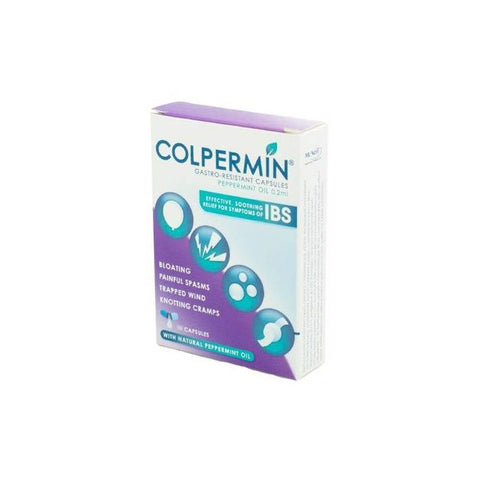 Colpermin Gastro-resistant capsules - 20 capsules
Pickup currently unavailable
Colpermin contains natural peppermint oil formulated in a gastro-resistant hard capsule.
Colpermin capsules release the clinically proven peppermint oil directly where it is needed most for effective, soothing relief from the painful spasm and bloating of Irritable Bowel Syndrome (IBS).
Typical symptoms of IBS are:
Abdominal pain
Painful spasms
Bloating with wind
Constipation and or diarrhoea
Dosage
Adults: One capsule three times a day; the dose may be increased to two capsules three times a day if necessary.
Children: Not recommended - Keep out of the reach and sight of children.
Contains 
Each Gastro-Resistant hard capsule contains: the active ingredient peppermint oil 0.2ml (187mg)
Also contains:

 

Gelatin, colloidal anhydrous silica, titanium dioxide (E171), indigotine (E132), Eudragit L 30 D-55 (methacryllic acid-ethylacrylate copolymer 1:1), Eudragit S-100(methacrylic acid-methylmethacrylate copolymer 1:2), triethylcitrate citrate, glycerol monostearate 40-55, macrogol 4000, talc, purified water, white beeswax, refined arachis (peanut) oil
Directions for use
For oral use
Swallow the capsule whole with a drink of water.
Do not eat food for 30-60 minutes after taking the capsules.
Do not chew or break the capsule.
Do not take indigestion remedies at the same time of day as this medicine.
If your condition does not improve after two weeks of treatment, consult your doctor