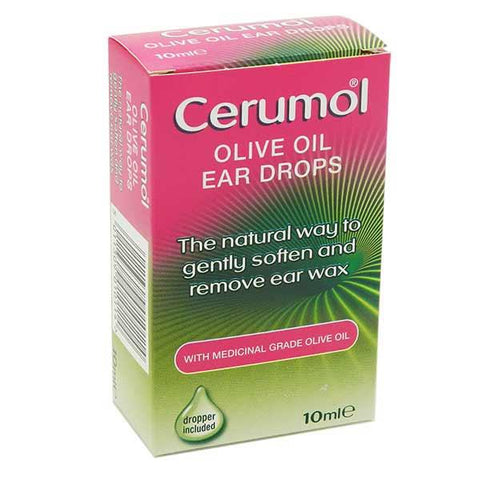 Cerumol Olive Oil Ear Drops - 10ml
Pickup currently unavailable
What is it
Cerumol Olive Oil drops are the natural way to treat problem ear wax. Cerumol Olive oil drops are safe and effective with no known side effects. The drops are safe for use in pregnancy and when breastfeeding. Olive oil is scientifically proven to disperse ear wax and therefore helps its easy removal.
Use
For adults, the elderly and children over 1 year:
Using the dropper, please 2-3 drops of oil into the ear, then gently massage around the outside of the ear. Never insert the dropper or any solid object into the ear. Allow a few minutes for the drops to reach the eardrum by keeping the head tilted then wipe away any surplus product that runs from the ear. Use the drops twice a day for up to seven days.
Warnings & Cautions
Once opened, store the dropper in the bottle. Store between 10...C to 25...C (Do not freeze).
Do not use if you are sensitive to Olive Oil.
Do not use on an infected ear or if the ear is bleeding, ruptured or inflamed.
Do not use on children under the age of 5 without the supervision of a nurse or doctor.
Do not use if the dropper is broken or damaged.
Consult your Doctor if you are using any other medication in your ear before using Cerumol.
Ingredients
The drops contain only Extra Virgin Olive Oil of medicinal grade, there are no other ingredients added.