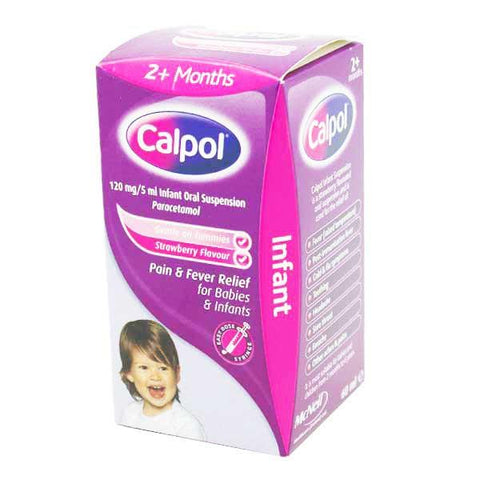 Calpol 120mg/5ml Infant Syrup Strawberry - 140ml
Pickup currently unavailable
What is it
Calpol Infant 2m+ is a painkiller for babies, toddlers and children aged from 2 months to 6 years. This strawberry flavoured oral suspension is a pleasant tasting medicine making it easier for children to swallow and the dosing syringe means it can be administered with ease.
Dosage
Babies 2 – 3 months (weighing over 4kg and born after 37 weeks) 2.5ml. Maximum of 2 doses in 24 hours.
Babies 3 – 6 months, give 2.5ml.
Babies and toddlers 6 months – 2 years, give 5 ml.
Toddlers 2 – 4 years, give 7.5ml.
Children 4 – 6 years, give 10ml.
Babies and children over 3 months should be given a maximum of 4 doses in 24 hours. Never give more than the recommended dosage in any 24 hours and leave at least 4 hours between each dose.
Warnings & Cautions
Do not give more than 4 doses in any 24-hour period
Leave at least 4 hours between doses
Do not give this medicine to your child for more than 3 days without speaking to your doctor or pharmacist.
For oral use only.
Do not give more medicine than the label tells you to.
If your child does not get better, talk to your doctor.
Do not give with any other paracetamol-containing products. Immediate medical advice should be sought in the event of an overdose, even if the child seems well.
As with all medicines, if your child is currently taking any other medicine consult your doctor or pharmacist before using this product. Please see
leaflet.
Ingredients
Each 5ml of oral suspension contains 120mg paracetamol.
Other ingredients: Sucrose, sorvitol liquid (E420), carmoisine (E122), E214, E216 and E218.