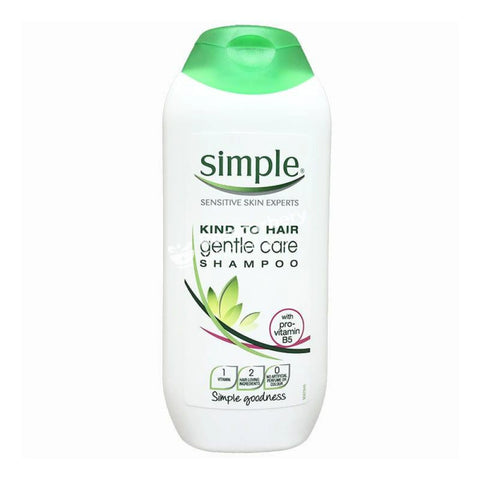 Simple Shampoo 200ml
Pickup currently unavailable
Your hair, skin and particularly your scalp can take a beating from daily shampooing, making it vital to find a hair care product that cleanses gently, yet thoroughly. Simple Kind To Hair Gentle Care Shampoo is all that and more. Formulated with the perfect blend of ingredients, it not only cleanses and revives hair, but it is also suitable for daily use by people with sensitive scalps.
It will leave your hair healthy while bringing out its natural shine. Infused with moisture-loving pro-vitamin B5 and containing hair-loving ingredients such as chamomile oil and glycerin, our gently cleansing shampoo will restore and replenish your hair's natural shine. Of course, it only contains Simple goodness and has no harsh chemicals that can upset your hair and scalp, as well as no artificial colour or perfume and no animal-derived ingredients.
Being dermatologically tested and approved, this gentle hair shampoo is tailor-made to use every day, even by those with sensitive skin. For best results: Lather up every day by gently massaging into hair scalp. Rinse thoroughly and repeat as necessary. Follow up with our Gentle Care Conditioner. Avoid contact with eyes; if contact occurs, rinse with water. For gentle cleansing you can trust, leave it to the sensitive skin experts. Smile, it's Simple.
Key Features:
Simple Kind To Hair Gentle Care Shampoo has the perfect blend of ingredients to help cleanse and revive hair
The kind to skin formula of this shampoo gently yet thoroughly cleanses, making it perfect even for sensitive scalps
Our gentle, cleansing shampoo is infused with pro-vitamin B5 to help ensure healthy, shiny hair
Formulated with hair-loving ingredients such as chamomile oil and glycerin, this gently cleansing shampoo is ideal for daily use
Our kind to skin shampoo contains no harsh chemicals that can upset your hair and scalp, no artificial colour or perfume and no animal-derived ingredients
As with all Simple skin care products, this hair care shampoo is dermatologically tested and approved